Padmanabhaswamy Temple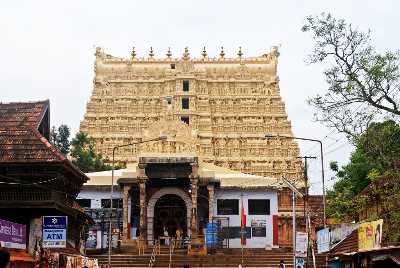 Sree Padmanabhaswamy Temple stands tall in the Thiruvananthapuram, capital of Kerala in its decadent gold-plated glory. It is one of the 108 Divya Desams, the principal centres of worship in the dharma of Vaishnavism. Divya Desams are the holy abodes of the great Lord Vishnu, and the temple worships Lord Padmanabha- a reincarnation of Lord Vishnu. This divine temple is one of the very few temples in India where the entrance is only granted to people that practice the Hindu faith. The mystery and grandeur of the temple fill the air and leaves you awestruck in its magnanimous beauty. The premises of the temple echo tranquillity and every breath you take under the roof of this holy structure feels like a soul cleansing experience.
Built as a replica of the Adikesavaperumal Temple in Thiruvattar, the Padmanabhaswamy temple is lost in antiquity. Even after detailed research and study, historians and archaeologists are unable to determine the exact age of this ancient temple. With its references in the Biblical Epics and Puranas, we know that the temple holds great importance in the history of Hinduism. The Bhagwad Gita iterates that the great Balarama not only visited this temple but also bathed in Padmatheertham and made several offerings the lord. They say that this temple was established on the first day of Kali Yuga, over 5000 years ago.
The temple is known for its strict rules of worship and has specific dress codes to be followed by its devotees. Despite all of this, devotees gather in large numbers to get a glimpse of the deity and attain some peace of mind. The majestic temple has also been the focus of many media reports and press coverage owing to the incredible discoveries being unearthed. The mystery surrounding Vault B is fascinating and has been contributing to a rise in visitor count since its discovery.